Quercus suber, Cork oak,
Hebrew: אלון השעם, Arabic: السنديان الفليني
Scientific name:

Quercus suber L.

Common name:

Cork oak

Hebrew name:

אלון השעם

Arabic name:

السنديان الفليني

Family:

Fagaceae, Beech family, אלוניים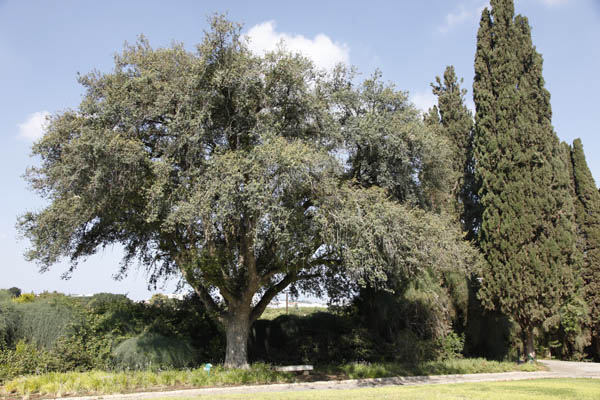 Weizman Insitute, Rehovot
Life form:

Evergreen tree

Stems:

Up to 20 m high, with thick, corky bark; twigs tomentose

Leaves:

3-7 cm long, ovate-oblong, sinuate-dentate, dark green above, grey-tomentose beneath; midrib sinuous

Inflorescence:

Monoecious flowers; male inflorescences are long, pedunculate and arise from the axillary buds of the previous year's branches; female flowers appear on vigorous new growth

Flowers:

Insignificant monoecious flowers, yellow-green; staminate flower, stamens 4–10; pistillate flower; calyx minute, generally 6-lobed; ovary enclosed by involucre.

Fruits / pods:

Acorns, 2-3cm long, oval-oblong

Flowering Period:

Spring

Habitat:

Mediterranean maquis and forest

Distribution:

North Africa: N Algeria, Marocco, Tunisia, Europe: Corsica, France, ES Italy, Portugal, Sardegna, Sicilia, Spain

Chorotype:

Mediterranean

Summer shedding:

Perennating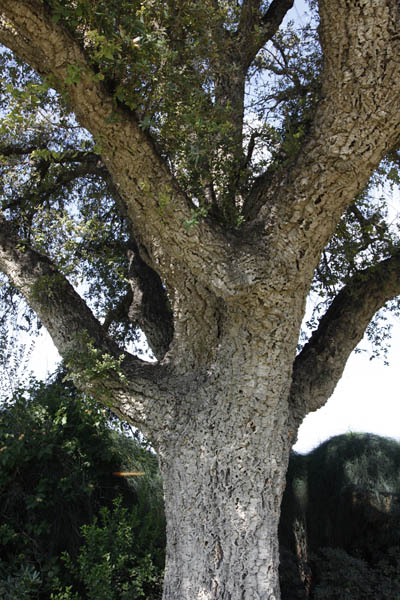 Weizman Insitute, Rehovot



Derivation of the botanical name:
Quercus, Latin for oak.
suber, cork.
The Hebrew name: אלון, alon, properly 'a large strong tree', and like אלה ( = terebinth; oak) derived from אול, oel (= to be strong); related to Akkadian: allanu.
The standard author abbreviation L. is used to indicate Carl Linnaeus (1707 – 1778), a Swedish botanist, physician, and zoologist, the father of modern taxonomy.
The primary source of commercial cork. The outer layer is harvested from this tree manually with a hatchet. The first cutting takes place when the tree is 25 years old, and it can be harvested once a decade thereafter. Harvesting the cork does not harm the tree, and a new layer of cork is gradually regenerated (100 trees at the Weizmann Institute of Science).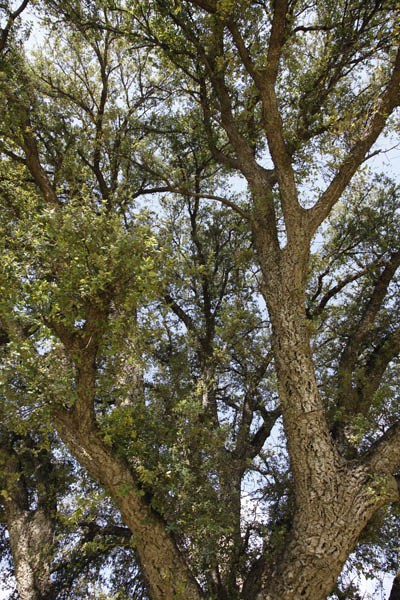 Weizman Insitute, Rehovot