Prunus ursina, Bear's Plum,
Hebrew: שזיף הדב, Arabic: خوخ الدب
Scientific name:

Prunus ursina Kotschy

Common name:

Bear's Plum

Hebrew name:

שזיף הדב

Arabic name:

خوخ الدب

Family:

Rosaceae, ורדיים
Life form:

Phanerophyte, tree

Spinescence:

Stems

Leaves:

Alternate, entire, dentate or serrate

Flowers:

White, pink

Flowering Period:

March, April

Habitat:

Mediterranean maquis and forest

Distribution:

Mediterranean Woodlands and Shrublands, Montane vegetation of Mt. Hermon

Chorotype:

Mediterranean

Summer shedding:

Perennating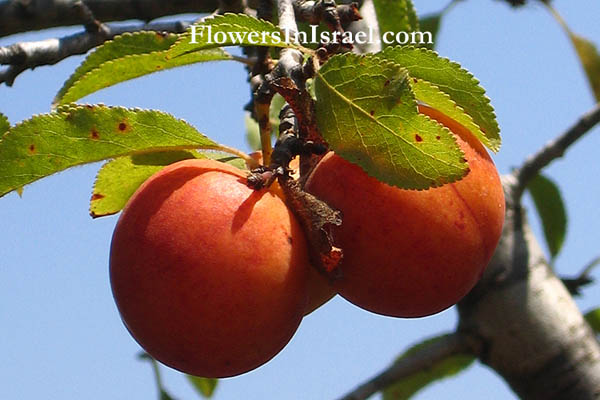 Derivation of the botanical name:
Prunus, Latin prūnus, Greek προῦνον prounon; plum tree.
ursina, ursus, a bear, referring to one of a bear's favorite foods; of the bear.
The Hebrew Name: שזיף borrowed by the Greeks: zizyphon, whence Late Latin zizyphus (=jujube tree). According to folk etymology the word שזיף was regarded as a derivative of the base שזף (=to blacken, become sunburnt), and used in the sense of 'plum', in allusion to the blackish color of the plum.
The standard author abbreviation Kotschy is used to indicate Carl Georg Theodor Kotschy (1813 – 1866), an Austrian botanist and explorer.