Paronychia argentea, Silver nailroot, Silvery Whitlow Wort,
Hebrew: אלמוות הכסף, Arabic: رجل الحمامة
Scientific name:

Paronychia argentea Lam.

Common name:

Silver nailroot, Silvery Whitlow Wort

Hebrew name:

אלמוות הכסף

Arabic name:

رجل الحمامة

Family:

Caryophyllaceae, ציפורניים
Life form:

Hemicryptophyte

Stems:

stems 15-30cm, usually creeping, much branched, mat forming

Leaves:

Opposite, ovate-lanceolate; entire margins

Flowers:

Inflorescence, cyme; 5 White, yellow petals

Fruits / pods:

Achenes

Flowering Period:

January, February, March, April

Habitat:

Batha, Phrygana

Distribution:

Mediterranean Woodlands and Shrublands, Semi-steppe shrublands, Shrub-steppes, Deserts and extreme deserts, Montane vegetation of Mt. Hermon

Chorotype:

Mediterranean

Summer shedding:

Perenating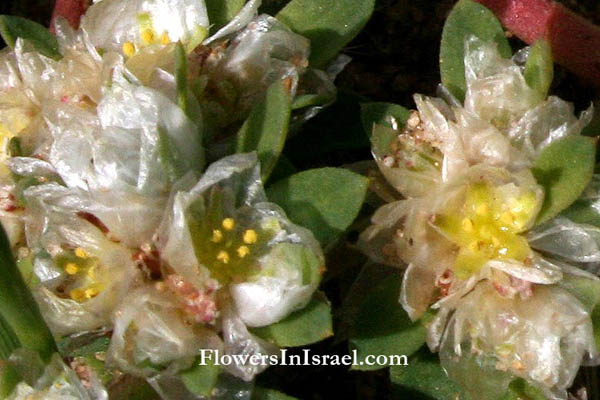 Derivation of the botanical name:
Paronychia, Greek, para, by the side of, near; onyx, nail; "a whitlow," a painful abscess on the side of the nail at the end of a finger or toe. One of the common names for Paronychia is whitlow-wort, an herb thought to be a cure for whitlow.
argentea, silvery.
The standard author abbreviation Lam. is used to indicate Jean-Baptiste Lamarck (1744 – 1829), a French soldier, naturalist, academic.