Life form:

Geophyte

Stems:

Up to 40cm in height; dark, reddish stem

Leaves:

Alternate, rosette, entire, smooth

Flowers:

Purple, pink

Flowering Period:

March, April

Habitat:

Mediterranean maquis and forest, Batha, Phrygana

Distribution:

Mediterranean Woodlands and Shrublands, Montane vegetation of Mt. Hermon

Chorotype:

Mediterranean

Summer shedding:

Ephemeral

Protected Flower, צמח מוגן:

Yes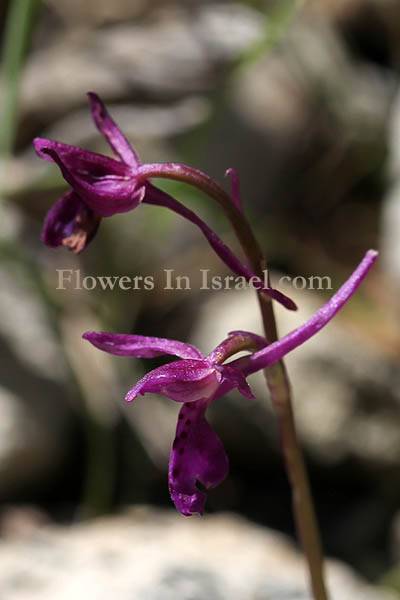 Derivation of the botanical name:
Orchis, ορχιϛ, "testicle" (here, shape of), from the rootform of some species. For that reason, Orchis has been regarded since antiquity as an aphrodisiac.
anatolica, "Anatolia"; of Anatolia, western Turkey.
The Hebrew name: סחלב, sahlav, Arabic sahlab, corrupted from tha'lab in husa al-tha'lab (=the fox's testicles), the Arabic name of the tubers of the Orchis mascula (so called from the resemblance of the roots to testicles).
The standard author abbreviation Boiss. is used to indicate Pierre Edmond Boissier (1810 – 1885), a Swiss botanist, explorer and mathematician.