Acacia salicina, Racosperma salicinum,
Willow Acacia, Willow wattle, Australian Willow, Broughton Willow,
Hebrew: שיטה עלי-הערבה, Arabic: أكاسيا صفصافية الأوراق
Scientific name:

Acacia salicina Lindl.

Synonym name:

Racosperma salicinum (Lindl.) Pedley

English name:

Willow Acacia, Willow wattle, Australian Willow, Broughton Willow

Hebrew/שם עברי:

שיטה ארוכת-עלים, שיטה עלי-הערבה

Arabic/الاسم العربي:

أكاسيا صفصافية الأوراق

Español:

Acacia salicina

Plant Family:

Fabaceae, Mimosaceae, שיטיים
Life form:

Phanerophyte, shrub

Leaves:

Alternate, entire, smooth

Flowers:

Fragrant creamy yellowish balls

Flowering Period:

Most of the year

Habitat:

Tree or shrub used for afforestation; escapes mainly into roadsides, disturbed habitats

Distribution:

Mediterranean Woodlands and Shrublands, Semi-steppe shrublands, Shrub-steppes, Deserts and extreme deserts

Chorotype:

Australian

Summer shedding:

Perennating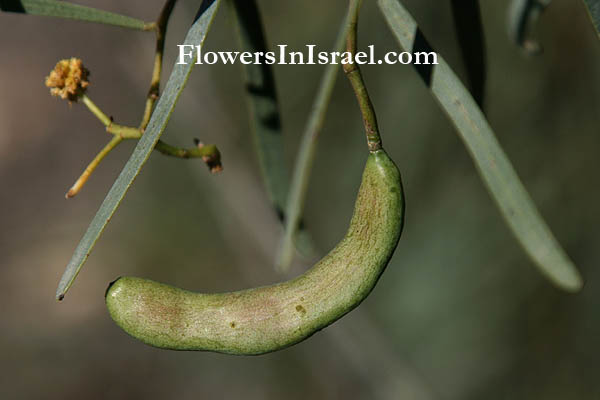 Derivation of the botanical name:
Acacia, from the Greek word akis, meaning a point or a barb.
salicina, salix, salic, "a willow-tree", inus,-ινοϛ, "composition, color, resembling, owning"; meaning willow like.
The hebrew word: שיטה, shittah (Acacia, tree and a wood), borrowed from Arabic sant, سنط, in ancient Egyptian: Sndt, Sntt.
The standard author abbreviation Lindl. is used to indicate John Lindley (1799 – 1865), an English botanist.
The standard author abbreviation Pedley is used to indicate Leslie Pedley (born 1930), an Australian botanist who specialised in the genus Acacia.
Acacia salicina, an Australian acacia, was introduced into Israel mainly in the arid region of the country, for afforestation purposes and soil erosion control. It is found in the arid part of the country mainly on wadi banks and along roadsides. Although it does not create dense thickets, it displays a widespread distribution throughout the Negev desert.